If you're looking for décor and color ideas for your baby's nursery, you're in the right place. The most important thing about decorating a nursery is ensuring that the atmosphere is positive and that you and baby both feel great while you're spending time there. Here are some fantastic color palettes that might inspire you as you try to decide on the color palette for your baby's nursery.
This palette combines two neutral colors and three accent colors that really make the room pop. The great thing about this color palette is that it's perfect whether your new bundle of joy will be a girl or a boy!
White, coral and gray are soothing colors that don't sacrifice when it comes to beauty. If you don't care for coral, try turquoise, purple or another vivid color. The great thing about white and gray is that they look fantastic with absolutely any other color.
This green and orange nursery features pops of playful colors like the blue of the table and chairs. The effect is calming and soothing without being boring.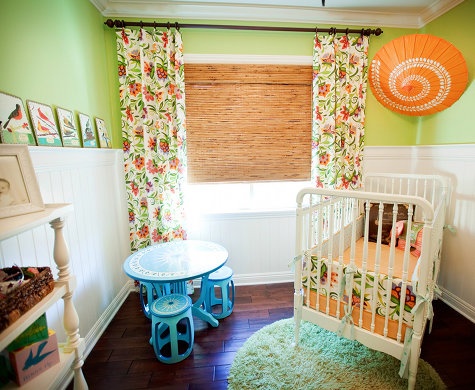 While many people skip pastel greens, blues and pinks because they seem so overdone, this one is done very tastefully. It doesn't look dated at all and in fact, the room looks very inviting.
This palette combines white with soft and muted blues and greens. The effect is a very soothing, serene environment where the baby can rest peacefully.
These are just a few ideas designed to help you think of the perfect palette for your little one's future bedroom!