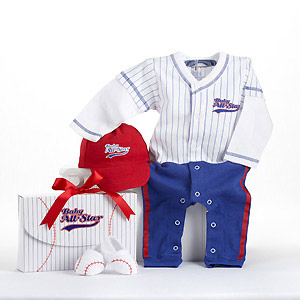 "Big Dreamzzz" Baby Baseball Three-Piece Layette Set in All-Star Gift Box
Cover all the bases, quality, practicality, comfort and cuteness, with a baby gift destined to become a hit. Another bright star in our popular "Big Dreamzzz" collection, the Baby Baseball layette set is sure to be a home-run hit with the new mom and dad.
Machine-washable, 100% cotton
Tri-fold gift box, topped with a red bow and decorated with baseball-themed graphics (baseballs, pennants, bats, home plate and stars)
Legs have secure snap closure for easy changes between "innings"
Box measures 9 1/4"w x 6"t x 2" d folded, opening to a display size of 9 1/4"w x 15" t x 2" d
Size 0-6 months
Red, white and blue baseball-themed layette set includes:
Red baseball cap
Adorable all-star bodysuit
Cozy baseball booties
Cap and bodysuit are imprinted with "Baby All-Star"
Personalization is available at an additional cost