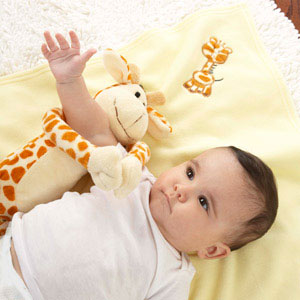 "Jo Jo Giraffe" 2 Piece Plush Gift Set
Hugs all around when Jo Jo comes to town! Totally awwww-inspiring, this cuddly, creative gift set features Jo Jo the Giraffe.
A plush, gentle jungle giant destined to be baby's new best friend
Jo Jo has his squeezable, soft arms and legs wrapped around a giraffe-themed, keepsake box in mellow shades of yellow, green and brown
Tucked inside, you'll find a sunshine-yellow, fleece baby blanket with an embossed, velvety likeness of Jo Jo in one corner and a special place for personalizing your unique gift if you wish
Jo Jo and the gift box measure 12" from top to bottom
Blanket measures 30" x 36"